Menu•SiteMap
Personal – but not private
"For a moment is passed in His anger; a life in His favour; at even
weeping cometh for the night, and at morn there is rejoicing", Psalm 30: 5.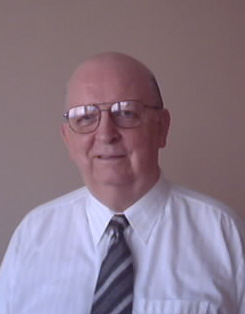 My name is Gordon Rainbow and I am responsible for the My Brethren web site. This is my Personal page.
In early 1971, my wife Betty and I withdrew from a system which had become, and is, completely and irreversibly leavened by popery, clericalism, sectarianism and evil teaching – and is characterized by wicked and cruel practices.
I have been increasingly concerned for those who have suffered from the legal system which emerged in 1959 – but till now have lacked means of contacting them.
In the past year I became aware of the possibilities of reaching out through the internet.

The result – still in progress – is 'My Brethren'.
November 11, 1998   G.A.R.
Site Objectives
'My Brethren' deals mainly – but not exclusively – with the history and ministry of JND, JBS, FER, CAC, JT, GRC
and others who were in practical fellowship with them – for the years c. 1827 to 1959.

Inquiries regarding developments after 1959 have led to the inclusion of subsequent history.

Some post-1959 ministry had already been included, and this practice will be continued.

Some negative features can't be avoided, but my intent is to present a positive and comprehensive outline of the history and ministry of the recovery of the truth.
Despite ongoing external and internal attacks, from 1827 onwards, a continuing spiritual ministry opened up many precious truths –
influencing the lives of the brethren and leading to a deeper apprehension of the Lord's Supper and the enrichment of the service of God.

Decline – as with every previous testimony – allowed the emergence in 1959 of a legal party which caused havoc and much suffering among the brethren.

'My Brethren' calls for a return to our spiritual heritage, to the Scriptural principles, practices and teachings of former years and to

the acceptance of personal responsibility for the maintenance of the truth in our days.
• The main objective of this site therefore is to
reach out to my brethren who have been damaged, disillusioned or discarded by the legal system which first emerged in 1959, and continues to dominate many to this day,

to recall them to their spiritual birthright – the rich heritage of former years; to encourage them to take possession of it –

and to my brethren in the various connections resulting from the 1959 and 1970 crises, who seek to walk in the light and in truth,

that we might humble ourselves before the Lord for our part – active or passive – in the shameful happenings and sorrow-ful scatterings which have taken place in our times.
• A further important goal of this site is to
contact my brethren of other backgrounds who have a legitimate and sincere interest in the history and the ministry of those who – c. 1827 onwards – acted on 2 Timothy 2: 19-22, and

to share relevant information – some little known;

to clarify, as far as possible, doctrinal/historical misunderstandings and misinterpretations;

to look afresh at the bearing of the Scriptures on the present situation.
Page Top
The Site's Future
'My Brethren' is carried on as a service to the Lord Jesus and to my brethren – hopefully until He comes.
I am committed to the maintenance and the expansion of 'My Brethren' for as long as

it appears to be of value to the brethren, and

the Lord provides the necessary physical strength and clarity of mind.

This service – and this is not a complaint – demands more of my time and of my declining energy, on this my 70th birthday, than could have been foreseen.

If 'My Brethren' is to continue, and I trust it will,

the time is coming for others – who share the same principles and objectives – to come forward and take up part, and in time all, of this service.

Your interest and prayers will be appreciated.
November 11, 1999   Gordon A. Rainbow.

In March 2001, I wrote privately to a number of guests inviting them to join with me in prayer as to the future of 'My Brethren'.
Advancing age and declining energy had made it clear that – if MB was to continue – I would soon need the help of some one who shared my exercise and who, ultimately, could assume full responsibilty for MB.

I am thankful indeed for several encouraging replies, for good counsel and for continuing prayer.
The Lord's answer to our prayers came unexpectedly.
After browsing 'My Brethren' for some months, Jeff Kuns signed the Guest Book 5 in June 2001, and a correspondence began.
This shortly became a weekly telephone chat out of which a strong friendship developed, based on our common commitment to Christ and His interests.

Jeff has contributed several items to My Answer, My Stand and Studies. He has also helped with some correspondence with new guests.

Recently he has begun scanning the ministry of Mr. G. R. Cowell and we hope, if the Lord will, to add much – if not all – of it to MB in the next year or so.
Last week Jeff flew to Toronto from California for a 5 day visit with Betty and me.
This afforded time to review the web site operations and for extended conversations as to our mutual interest in the history and ministry presented on MB.

We greatly enjoyed his company, as did our local brethren who are very supportive of 'My Brethren'.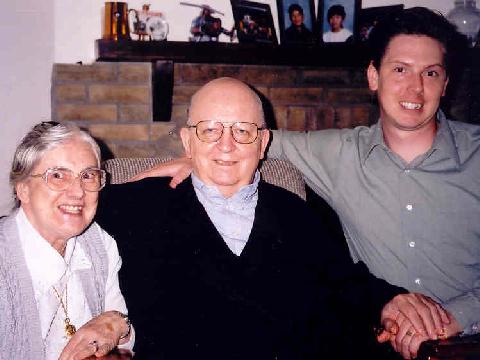 Betty, Gordon and Jeff, Toronto, April 2002
Jeff begins sharing the editoral responsibilities of 'My Brethren' at once.
Our united prayer is that he will be enabled by the Lord to continue the service when I am no longer able – or happily have departed to be with Christ.

Your prayers for the useful continuance of MB, and for Jeff and me in our joint service, will be valued.
Wednesday, April 17, 2002   G.A.R.

'My Brethren' was opened in November 1998 – almost 4½ years ago – to serve the Lord Jesus and His brethren,
by meeting the perceived need for a positive and comprehensive presentation of the history and ministry of those brethren commonly called 'exclusive' –

in contrast to the then existing so-called 'brethren' sites which were either

overtly sectarian with a distorted view of the Spirit's work in recovery,

or marked by a negativism centred on certain deplorable and serious aberrations since 1959.
---
Some guests will recall that as early as November 1999 – because of advancing age – I could foresee the need
"for others – who share the same principles and objectives – to come forward and take up part, and in time all, of this service".

Several valued guests offered good counsel and support at that time.

I am, very thankful to the Lord for His provision, in mid 2001, of Jeff Kuns, first as a valued friend, and

– from April 2002 – an energetic fellow-worker and a conscientious Co-Editor.
The time has come – in my 74th year – for Jeff to assume the responsibility of Editor of 'My Brethren'.
We went over the details during his visit to Toronto this month – April 2003.

I have full confidence that Jeff – as spiritually qualified, genuinely committed and technically competent – is well able to maintain the principles and standards on which 'My Brethren' is based.
In the transition period and following, Jeff and I will continue to work closely together.
As Editor Emeritus I will assist Jeff in every way possible – as long as the Lord enables me –

including any matters of which I have special knowledge and correspondence with old friends.
The objectives and policies of 'My Brethren' are unchanged.
Jeff and I share a deep appreciation of

the Spirit's work in the recovery of the truth,

the ministry's present and continuing value,

the need for a positive outlook towards all our brethren of whatever connection.
---
'My Brethren' has grown considerably – far beyond what I could have expected – since November 1998,
– in content, contributions and an exceptionally high quality of correspondence –

and by January 2004 the need for more space may see a change from a 'residential' site to a 'business' or 'professional' type site.

At that time a new domain name – mybrethren.org has already been reserved – and a new email address will come into use.*

[* This actually took place in November 2003, the 5th anniversary of 'My Brethren".]
To fulfill our aim that 'My Brethren' might be the premier resource site
for all, of whatever background, who are interested in the history and ministry of those brethren called 'exclusive'

– with a comprehensive range of both reliable historical data and the choicest ministry –

a good deal of material still remains to be added – if the Lord will – including:

the balance of Mr. G. R. Cowell's distinctive ministry,

significant articles from the 'classics' – J.N.D. and others – and rare ministry by many lesser known servants,

clarifying articles on 'doctrine' not yet covered,

the text of the 1973/1993 hymns with suitable tunes,

and from my personal files which Jeff now has,

an author index for the hymns with biographical details, a subject index and a comparative index of revisions,

several meeting lists and an atlas of meetings,

notes of several Stow Hill consultation meetings,

historical articles and letters, memorabilia and poetry;

besides the ongoing guest correspondence, and occasional additions to 'My Answer', 'My Stand' and 'Studies'.
---
In serving the Lord and the brethren, Jeff and I desire that – until He comes – 'My Brethren' should be
a testimony to the great truth of Christ and the assembly,

a distinct call for return to "first love" for Christ,

a resource for a reliable account – and a current application – of the history of those brethren commonly called 'exclusive',

a treasury of challenging and edifying ministry,

a source of comfort and counsel for all in need.
I am honoured to have served the Lord and the brethren thus far, appreciate your past interest and value your prayers for the future.
Please pray for Jeff, that he might experience the Lord's help in a distinct way in his new reponsibility –

and for the useful continuance of 'My Brethren' under his editorship.
April 2003, Gordon Rainbow.
A Personal Message to My Brethren is particularly addressed to those of my brethren who – since 1959 – were
damaged, disillusioned or discarded by the legal system which then emerged, and continues to the present.
My Journey gives a brief account of the failures and triumphs in my Christian life.
If you are wondering who would develop a web site like 'My Brethren' and why, then you should have a look at this page.
My Projects summarizes my main occupations since my retirement, in April 1993.
Much of the material on this site has come from those projects.
Guests: Site News, among other things,
records Additions and Changes as they take place,

issues 'Bulletins' to highlight items on the site and other related news of special interest,

notes new Guests in the 'Guest Book' and Guests with current correspondence in the 'Mailbox',

provides a permanent chronicle of site activity.
Guests: My Answer replies to guests' questions as to the meaning, the application or the interpretation of the Scriptures – or related practical matters – rather than to the somewhat controversial matters dealt with in 'My Stand'.
'My Answer' is based on light received through personal searching of the Scriptures, and

help obtained from the ministry of the reliable servants featured on 'My Brethren'.

As opportunities arise 'My Answer' will also feature articles by some of the frequent correspondents or fellow helpers of 'My Brethren'.

It is my hope that guests will be helped and stimulated to pursue their own personal search of the Scriptures. Questions are welcome.
Guests: My Stand contains replies to
inquiries regarding my personal position as to certain doctrines and ecclesiastical positions and

attempts to convince me to change my views.
As opportunities arise 'My Stand' will also feature articles by some of the frequent correspondents or fellow helpers of 'My Brethren'.
The Studies group has personal studies and my convictions on a number of subjects.
COPYRIGHT  INFORMATION
'Copyright Information' outlines the principles which have governed brethren
and the practices which they have followed.
The same principles and practices govern 'My Brethren'.

Notes of ministry, hymns, tunes, poetry, letters of interest, historical accounts, articles etc. – whether printed books, mimeographed, in manuscript, typescript or photocopy – in accordance with longstanding custom among brethren have been issued without claim to copyright or copyright notices.
This can be verified in the publications of Stow Hill Bible and Tract Depot, its successor, Kingston Bible Trust – as well as G. Morrish and other publishers.

The matter of copyright has been such a non-issue among brethren that there is no reference to it in the indexes to the published letters, ministry or other writings of such well-known teachers as J. N. Darby, J. B. Stoney, F. E. Raven, C. A. Coates, J. Taylor and G. R. Cowell.

After a thorough search, the only relevant comment I can find is by C. T. Lambert, compiler of the tunes for the 1932 revision of Hymns and Spiritual Songs for the Little Flock, the hymn book in use by the brethren since 1856. In the preface to the tune book he says,

"Of the 500 tunes in the book … the majority are either voluntary contributions composed for the hymns or well-known old ones. The former are available for any use in the interests of Christ and no copyright would be claimed for them".

Stow Hill Depot would not have published this statement – in a book intended for general use – unless it was an accepted and unquestionable tenet of the brethren.

Within my own memory – of fifty years or so – notes of ministry, hymns, tunes, poetry, letters of interest, historical accounts, articles etc. – whether printed books, mimeographed, in manuscript, typescript, or photocopy – have always been freely re-copied and circulated among the brethren.
To the best of my knowledge and belief all ministry, hymns, poetry, letters of interest, historical accounts, articles and other items on this site were written
by myself, or by my co-editor Jeff Kuns,

by brethren – dead or living – who would consider their works to be covered by the above custom.

by guests and correspondents of 'My Brethren' who have been openly and clearly informed in Guests: Policies: Correspondence that – subject to certain qualifications and restrictions, or a special request – their names and messages might be posted on this site,

or are in the public domain.
Nevertheless, if any legal rights have been inadvertently infringed, it is sincerely regretted, and notification would be appreciated so that the matter might be rectified and, if possible, such items might be retained on this web site with notice of permission from the legal copyright holder.
---

To preserve the integrity of the 'My Brethren' web site, please request agreement to post a link.
While no copyright is claimed, it is only common courtesy and brotherly consideration to request and obtain agreement before publishing any items, whether on the web or in print.
On request, Jeff Kuns and I will make any of our own writings on 'My Brethren' available for any accredited and non-sectarian use in the interests of Christ, provided:

no additions or deletions, without our agreement,
no incorporation with items by other authors,
our names, email address and URL to be shown,
our approval of a distributor's imprint,
a copy of any print version to be mailed to us.

We cannot give permission to publish articles by other living authors, but will forwarded any requests.
For any correspondence concerning this page, please use the Guests: Sign Guest Book / Message Form.
Refer to 'Copyright Information' in the the message.
Gordon A. Rainbow, November 1998.
Editor Emeritus, April 2003

I share the above views.
Jeff Kuns, Editor, April 2003.