May the Blessed Spirit use this sketch to promote a fairer judgment of Mr. Raven, and to stimulate interest in the valuable legacy of his ministry with which many – through disinformation and prejudice – are unacquainted.

G.A.R.

Frederick Edward Raven was born September 9, 1837 at Saffron Walden, Essex.
His father, Samuel Raven, was a solicitor's clerk.

The family moved to Canonbury Square, London. They were active members of the Church of England.
As a boy, he and Percy Lyon's father sang together in concerts.
In later years, Mr. Lyon Sr. spoke of the difference that grace had wrought in FER, saying that he had never known a prouder man than him when he sang in those concerts, but now he was so humble.
In 1865 when he was 28, FER left the Church of England and broke bread at the Priory meeting in north London, where Mr. Wm. Menzies was also local.
His parents never left the Church of England.

The Priory was Mr. Darby's local meeting.

While JND was still living, the meeting moved to 57 Park Street, Islington.

The Park Street room is still in use by some brethren who withdrew from the JTJr sect in 1970.
FER married Kate Wallis Glenny, daughter of Thomas and Harriet Glenny of Barking, and sister of Dr. G. W. Glenny, on April 15, 1873. He was in his 36th year.
Mrs. Raven, born January 20, 1851, was 22 when they were married, nearly 14 years younger than Mr. Raven.

Her father was a market gardener and her uncle had a brewery in Barking.

Mrs. Raven was reserved and rarely travelled with her husband.
---
FER gave the credit to his wife for the good conduct of his children. When urged to visit Australia for ministry – which would have meant being away for several months – he did not absolutely reject the suggestion, but said,
"You know in some way how I am situated over here, with a large family, all at home and I am unwilling to leave my wife with an undue burden on her shoulders".

The atmosphere in his house was free, but he was strict with his children and would not tolerate slang in the home.

FER believed in children and young people having exercise in the open air and often took his children to Greenwich Park, near the Royal Naval College.
---
They had nine children; most died under 50 years of age:
Edward, the eldest son, was born on March 10, 1874.

He and his brother William, attended the school of a brother, Mr. Edward Ellis, in Blackheath, London, and were studious and well-behaved.

Christopher, younger son of Wm. Menzies, who was about the same age as Edward, and his older brother were school mates.

By 1896 Edward was "in fellowship", although apparently none of the other children were at that time.

In 1902 Edward and Mary, daughter of T. H. Reynolds, were married.

Edward was educated to degree standard, possibly became Postmaster-General.

With another brother, he is said to have written a pamphlet regarding the Glanton division of 1908.

With C. A. Coates and Dr. C. C. Elliot, Edward – "for his scholarly capabilities" – revised the notes of the 1890 edition of JND's New Translation for the first Stow Hill Depot edition of 1939.

William died fairly young. He started work in the construction department of the Navy and was posted to the Royal Naval Dockyard in Portsmouth, Hampshire. Took a degree.

Gertrude, believed to be the first daughter, died in infancy.

Mary went away from home to teach in Yorkshire and joined the Church of England. Took a degree.

Charles, the youngest son, died fairly young.

On the Lord's Day that Mr. Raven died, Charles had been with him for some time.

At about 11 a.m. Mr. Raven said, "They are starting to praise Him, get off to the meeting!"

Charles arrived at the meeting only a little late but he did not see his father alive again.

Alice never came into fellowship.

Edith married a Mr. Cavanagh.

Emily – no information.

Jessie, the youngest daughter, had a Ph.D. at Oxford on French medieval history.

She married a Mr. Crosland. Anthony Crosland, the Labour politician, was their son.

She withdrew in 1954 in the troubled time when a number were questioning the rightness of addressing the Holy Spirit.

Jessie was FER's last surviving daughter. In 1966, a visitor described her as a delightful alert, though elderly, lady.

In June 1973 she was taken by the Lord. She was living in Banstead at that time, but the burial was in north-west London, where her husband had been buried.
A Review of TONY CROSLAND – a biography by Susan Crosland
The full name of Britain's former Foreign Secretary, whose biography this is, was Charles Anthony Raven Crosland. His mother Jessie, was the [youngest] daughter of F. E. Raven, the civil governor of the Royal Naval College in Greenwich and leader of the Darbyite group of Brethren. Unusually for a Victorian he thought daughters as well as sons should be educated. Jessie got an M.A. at Bedford College, became lecturer at Westfield College, and wrote standard monographs on French medieval literature.
Her Lancastrian husband, Joseph Beardsell Crosland, went to Trinity College, Oxford, via Manchester Grammar School. After a successful career in Whitehall he became No. 2 at the War Office under Churchill, who once told Mrs. Crosland: 'Your husband is the truest Christian gentleman I've ever known'.
The author of this biography, Tony Crosland's second wife, confesses that, although the Exclusive Brethren had a creed, 'it was difficult for an outsider to gather what it was. They didn't have rules: there were pressures, things one didn't do -- shibboleths'.
Most of the book is concerned with politics, an aspect that has been fully discussed in other reviews. There are only a few, fascin-ating, insights into the religious life of the Crosland parents. 'It was a loving family, the parents far less severe, forbidding than those of Edmund Gosse ... in Father and Son. But for Tony, the sect that constricted his family was as Gosse described it'. (It is salutary to remind ourselves that Gosse belonged to the 'Open' Brethren for most of his life and was never an Exclusive.)
Apart from the largely silent but total repudiation by the son of his early upbringing, the saddest note in the book is the brief account of the ostracising of his mother in her seventies for not joining in the denunciation of some fellow-member. 'It was very unpleasant sometimes', she recalled in her nineties or thereabouts. 'I'm glad now, because the brethren since then have become Taylorites [from 1959 many followed J. Taylor Junior, 1899-1970] – American you know. They've gone downhill ...' Let us be thankful that this is not true of all Brethren, 'Exclusive' or otherwise.
Review by Dr. J. S. Andrews, University of Lancaster.
From 'The Harvester', August 1992.

---

Correspondence from:
Mrs. Elsie M. R. Alexander

Dear Mr. ——,


I was partly touched partly distressed to read the sympathetic review of my sister-in-law's biography of my brother Tony Crosland, in your magazine (August).
My sister-in-law was punctilious in consulting each one of the family about their memories of early days but the mix has somehow turned out wrong and I would like, if I may, to correct the onesided impression of our upbringing given by the book.
I don't think our family life was as peculiar as is made out, though it is true that the 'Meeting' played a large part in it.
My father was the most broad-minded of men and never imposed his views in a dictatorial manner. There were few prohibi-tions: but one from which my brother suffered (though nobody realized it at the time) was not being allowed to join the school OTC [Officer Training Corps]. This has often been quoted as an example of inconsistency, since my father was a senior official at the War Office, but in fact it was because he was at the War Office that he knew how much pressure was being brought on young men to join the regular army through the school OTCs and he didn't want this for his son.
My brother certainly had an overlong playboy period – which your reviewer kindly omits to mention – but I think this was largely a reaction to the horrors of war for which his academic upbringing had ill-prepared him.
It is saddening that in all the words that have been spilled about my brother more has not been made of the positive influences of his early life:

a passionate sense of social injustice (our grandfather, F. E. Raven, was often quoted as saying that if he hadn't been a Christian he'd have been and out-and-out Communist!);

the immense care to treat the humble brother with the same courtesy as the well-off;

the dislike of pomposity or any sort of outward show.

What put my brethren off the brethren and therefore his family was

The long boring meetings in a language which (he said) no-one else could understand;

the inconsistency between the considerable interest in politics inside our own and some other families and the lack of social concern practised by the brethren for any out side the 'circle of the saints'.

I think if there is a lesson to be learned from the book it is that committed Christians who feel so led should be prepared to soil their hands in the hurly-burly of public life. If more Chrisians of our generation had done just that the moral decadence of our times might have been lessened.
Yours sincerely,

Elsie Alexander,

12, Blackmoor Wood, Ascot, Berks.,

SL5 8EN.
From 'The Harvester', November 1992.
Mr. Raven had remarkable natural ability but he did not seek a high position in the world. In a letter written 15 months before his death he said,
"When I came into fellowship I quite understood that it meant giving up worldly prospects, and the Lord ordered that this should be true to me, and I am thankful, for I have suffered no real loss in the long run".
In his younger days, he and Percy Lyon's father were employed in the same company.
Later, he is believed to have had a post in the Admiralty Office in London.

FER later worked at the Royal Naval College, Greenwich, becoming Secretary in 1873.

The hours were not long and he was always free for evening meetings.

He was not well liked at the College because of his refusal to attend social functions.

A suite of rooms in the College and also ground for use as a garden were provided for the Secretary.

The sorrow of the division aged him and, at age 60, he retired on pension on September 9, 1897 – although he was detained at his post till the following June.

He was offered, but refused, a knighthood for services rendered to the British Admiralty.

I do not think we want to antedate the glory. One would not care to be glorious here, knowing that all the glory is at the right hand of God.
There has been nothing but the deepest shame and humiliation and ignominy down here for Christ; He has now the blessed answer to it in the place of supreme honour and glory at the right hand of God, and I think the Christian should refuse to be renowned or distinguished in a scene where Christ has only been dishonoured, and content to wait until Christ is manifested in glory.

– Ministry by F. E. Raven, 2: 363.
On his retirement, Mr. Raven and his family moved to a big house at 10 Crooms Hill, Greenwich, S.E. 10, not far from the Greenwich Room.
The meals in the house were simple.

He had a small garden but he thought the house was more important.

The starting-point of all is Christ, and in recognising Him as Lord I get the millennium in my house but not in my garden.
Christians ought to have a millennium in the house. Many who have not got it in the house, try to have it in the garden, while there is a great deal of moral confusion in the house. The Lord does not care a bit about your garden, but He cares a great deal about your house.
It is a great reproach to a Christian to live in a fine house and to have the family in disorder. It is a sad enough thing to cover up the disorder in the house with a fine exterior. I think the grace of God would give order in the house.
– Ministry by F. E. Raven, 6: 244-45.
He was now able to do some travelling but, having no means of transport, he usually travelled by train.
Characteristics:
Humility and Dignity.
A quiet but keen sense of humour.
Very approachable – a beaming smile.
Direct and to the point.
An illustration of humility: He said one day at the table, "The testimony was in a way bound up with Mr. Darby; and following him, with Mr. Stoney; but now of course we have no one like that".
An illustration of his sense of humour: A little elderly sister staying in the house at the same time was asked if she would like to walk to the meeting with him.
Overawed with the honor of it, she wondered how she could sustain a sufficiently spiritual conversation! Mr. Raven told us the outcome with a twinkle in his eye.

He said, "Have you ever been across, Miss –– ?" "Across Jordan, do you mean, Mr. Raven?" "No, I meant across to England!"
An illustration of his kindly sympathy: In speaking of a tired little girl serving all day at the meeting meals during exam time, he said "That child is going home in the cab with me; and I am not going to eat any supper until she goes to bed".
An illustration of his direct, to the point thinking: As a school girl I asked him, "What about evolution?" He answered, "God couldn't make anything that is not perfect".
In Plainfield in my school girl days (1898) the meetings were held in an old wooden hall where meals were also all prepared and served by the sisters.
The brothers sat in two lines the length of the hall with Mr. Raven at the top. There were of course no loud speakers. The brothers were bending forward not to lose a word.

Mr. Taylor sat at the far end opposite Mr. Raven. He sat at the back so that his questions and the answers could be heard by all. A young man in his twenties, Mr. Taylor was intent on drawing out Mr. Raven's best.

Also at the same end was Mr. H. Fawcett, an opposer, who finally ended out of fellowship. In one of the readings on eternal life, HF said (striking his chest), "I've got it, I've got it in here!"

Mr. Raven replied quietly, "Then you ought to be able to give us some account of it!" He couldn't.
Mr. Raven had a deep affection for the American brethren. He was in tears when he left them. At the close of his first visit he was to give a farewell address in New York.
My sister and I, who loved him, greatly wanted to go in; but my father believed in school girls going early to bed. The trip to New York was a real journey in those days.

So we went to Mr. Raven, and begged, "Will you ask Father to let us go in to the meeting tomorrow night?" He just smiled.

Later he said to my father, "Lock, will you do me a favour?" My father said, "Yes, indeed; anything I can!" "Then let those two elder girls of yours go in to the meeting tomorrow night." Of course that was a settled matter!

As we sat in the hall in New York we heard two men speaking in low tones behind us. One said to the other, "We'll put him through his facings!" The meeting had hardly begun when one of them asked a question.

Mr. Raven answered with his usual gracious manner; and then the other one joined in. For a few minutes Mr. Raven answered them; then with stern dignity he said, "I will ask you to be silent!", and they did not speak again.
M.M.
---
He was short with piercing eyes and was unusually careful about his dress.
---
FER believed in being very careful as to withdrawing from any. A family came to live in Greenwich – Mr. and Mrs. X and four children.
A letter was received from the meeting from which they came saying that Mr. X had been withdrawn from for railing. FER felt how serious this was and damaging to the children.

The father was known to have a meek spirit so that it was felt that the matter should be looked into further.

On investigating it was found that Mr. X had lost his employment and the family was getting into difficult circumstances.

To give them a little cheer and help, a sumptuous meal had been sent round by a sister or brother,

but someone in that meeting had peeped into their dining room through a small opening in the blind and reported that this family was living in luxury.

It was consequently felt that they should be rebuked and so they were visited.

Both parents gave way to temper at this visit and it was decided to put them away for railing.

FER and the other Greenwich brothers felt that they should not have been put away and they were very soon restored and the children were received one by one.
---
FER was very generous in private giving. There was a case where a brother had got into debt, not his own fault but his wife's mismanagement. FER and another brother settled the matter in a very kind way.
---
One Lord's Day morning when FER was walking to the meeting he noticed a brother having an altercation outside the house of a neighbour.
Mr. Raven asked what was wrong and the brother said, "This man owes me ten shillings and he says that he paid it to me".

FER put his hand in his pocket and handed half a sovereign (ten shillings) to the brother and said, "Come along to the meeting".
---
When in the USA Mr. Raven noticed a young brother often at the meetings where he was serving who seemed very intelligent.
FER with his usual thoughtfulness suggested when in one of the homes that this young brother seemed to be travelling long distances and so it would be happy to help him with his travelling expenses.

FER started by putting his contribution on the table and others followed his example.

The young brother was James Taylor.
---
Once when FER was in Plainfield a man came in who became quite violent. FER said to him, "I do not know who you are but it is very impertinent of you to come into the meeting and speak so". The man quieted down.
---
In 1963, Mr. A. J. Gardiner, quoted Mr. Raven to support the non-eating doctrine of JTJr.
See pages 318-9, 'What is required of those naming the Name of the Lord' in 'The Recovery and Maintenance of the Truth', 2nd edition, 1963.
AJG says "… there is nothing new in the present insistence that eating with persons involves fellowship. As long ago as 1897, the late Mr. F. E. Raven, in a reading at Greenwich on John 13 (Ministry by F. E. Raven, 5: 264) said in relation to verse 18 that eating bread implied fellowship …"
Mr. Raven was clearly not advocating the same extreme teaching as JTJr did in 1960. He did not say that all eating with persons involves fellowship.
AJG has taken his remark out of its context and interpreted it in a way that is inconsistent with Mr. Raven's practice.
In February 1965 FER's youngest daughter, Mrs. Jessie Crosland, whose mind and memory were very fresh – she died in 1973 – assured Mr. Arthur G. Brown who visited her at Banstead that:
While Secretary of the Royal Naval College at Greenwich up to the time he retired – this included 1897 – Mr. Raven lunched at times with the Admiral who was in naval charge of that establishment and who was not 'in fellowship'.

He never discontinued partaking of meals in the company of his sister who was in the Church of England.

He never discontinued partaking of meals with one of his daughters after she withdrew from fellowship with the brethren and joined the Church of England, although her withdrawal was a matter of great grief to him.
Greenwich was within walking distance of Lewisham and Deptford.
Sometimes FER went to the Lewisham on the Lord's Day morning with his two elder sons.

He always gave a word and said that the Lord gave him an impression then which helped him in his preaching and throughout the week.

He also went to Deptford sometimes to break bread.
His local brethren – except for one brother who was somewhat mental – accepted him, and also the brethren in the area. His acceptance by the brethren in a general way was more gradual.
He took a definite lead in the Greenwich meeting supported by Mr. George Broomhead who was helpful, also Mr. George Chesterfield, father of Mr. William Chesterfield.
There were about 60-70 in the locality – including some brothers who seldom, if ever, took part audibly.

There was one brother who had only learnt to read since breaking bread and he often gave good contributions;

his fellow-workmen used to tease him and one told him that he only went to that meeting for what he could get.

He replied,"I gets what I goes for".

FER almost always gave a word in the morning meeting, usually towards the end.

Seats at the Greenwich Room – located on Circus Street from 1890 onward – were arranged in 2-3 long rows, with short rows at either end. FER always sat in the same seat facing down the room.
When present the hymns were always started by FER who had a very good voice, and kept accurately to time; he was not loud but there was much fervour.
He got rid of his organ feeling that it might become a snare to him.
As FER became more and more in demand as a teacher, a number of brethren used to come to Greenwich on Thursday night for the reading
and arranged for their own reading to be held on Wednesday or Friday evening.

The Ravens lived about ten minutes walk from the room, and would often have a number of brethren in to tea before the Thursday evening reading.
Mr. Raven felt that there were far better gospel preachers than he, and it did not matter to him how small the company was to hear him. The same with his addresses or lectures as they called them. He did not have open air preaching himself though he respected many who took up this work.
FER felt that brethren should not be conspicuous.
FER greatly appreciated evangelists when they were sound and not histrionic. He once said that if a brother felt led of the Lord to give a word in the open air he would gladly hold his hat while he served. He used to get Mr. Champney and others like him for weekends.
One Thursday evening when a lot of brethren had made their way to Greenwich for the reading to get the benefit of FER's ministry, they found the seats arranged for a preaching
and some, on arrival, heard Mr. Whitworth Lumb reading, "I am not told to labour to put away my sin".

Mr. Lumb had arrived unexpectedly that day so FER and others had arranged to have a gospel preaching, since they could always get some outsiders in.
One of the hymns frequently given out by FER at the Monday prayer meeting was
Happy they who trust in Jesus,

Sweet their portion is and sure,

and another was

When Israel by divine command

The pathless desert trod

They found throughout the barren land

A sure resource in God.
There were some aged and weak brothers in the Greenwich meeting and FER showed them much consideration and occasionally sang heartily a gospel hymn at the morning meeting.
On returning from ministering he would sit on the table in the meeting room swinging his legs – after the prayer meeting was over – telling the brethren his impression of the meetings and of the brethren in other localities.
HIS  FRIENDS
In this biographical sketch, the term "friends" refers to
spiritual friendships not to natural or partisan relationships.
Among his most intimate friends were J. B. Stoney, E. L. Bevir, T. H. Reynolds, J. S. Allen.
Mr. Raven's high regard for Mr. J. B. Stoney (1814-97) was expressed in a letter following his death: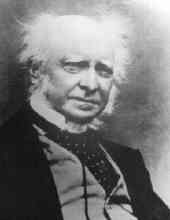 "And so the end has come at last and we are left without the living voice of JBS. My feeling is as one without a father. In emergencies and difficulties he has never been weak. I have always felt that he understood the discipline of God, and no one has affected and influenced me in my course here, apart, in a sense, from the light gained through him. How thankful one is that his mind and brightness remained till the end, and thus he was a pillar of the truth", Letters, page 135, May 1, 1897.
---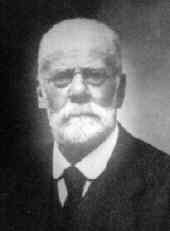 Mr. Edward Lawrence Bevir (1847-1922) lived in France for many years, labouring there and in Italy.
His valuable and challenging articles appeared regularly in Mr. Stoney's periodical 'A Voice to the Faithful'.
He is probably best known for his hymns; there are 7 in the 1973 Hymn Book.

Mr. Bevir was a prolific poet and after his death Mr. Charles Leflaive published a collection of 197 of his poems.
---

Mr. Thomas H. Reynolds (1830-1930) of Burford, Oxfordshire, edited the 1903 revision of the Hymn Book.
Many of THR's articles were published in 'A Voice to the Faithful'.

In 1896 when JBS was unable to continue the active editorship of the "Voice" on account of increasing bodily weakness, Mr. Reynolds took over the supervision of its publication.
---

Mr. John S. Allen of Birkenhead accompanied FER on his 1898 and 1902 visits to America.
---

Mr. Raven had continuing correspondence with Mr. Joseph Edmondson of Dublin and Dr. G. A. van Someren of Sydney, Australia.
---
• C. H. Mackintosh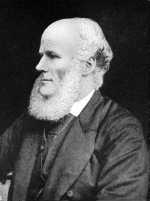 The name of Mr. C. H. Mackintosh (1820-96) is known and respected, and his ministry valued, by brethren generally.
What is not generally known is that he continued in fellowship with FER to the end.

While there is no record of their personal contact, there are at least four letters of CHM's on record indicating he had no difficulty with Mr. Raven or his ministry.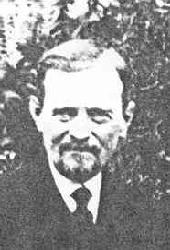 In History: The Champney Letter – which details the whole controversy – Mr. H. D'Arcy Champney quotes from two of CHM's letters, one being to Mr. J. A. Trench.
Writing at the beginning of October 1890, CHM says, "I see no adequate ground for the charge of heresy and blasphemy on the one hand; and on the other hand I cannot discern the Spirit of Christ in the letters, papers, and actings of the seceders".
Two more letters of Mr. Mackintosh have been appended to History: Events in Ealing.
---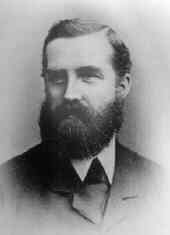 On November 29, 1890, CHM wrote from Dublin to Mr. George Cutting, author of the well known tract 'Safety, Certainty and Enjoyment':
I feared that you would have to encounter a good deal of trial in consequence of the sad and humiliating condition of things amongst us. I have never known anything like it during the fifty years I have been on the ground.
Only think of some who have walked for years in ostensible fellowship with us, now charging us with being identified with heresy, blasphemy and attacking the adorable Person of the Son of God;

mark the bitterness of feeling, the diligent effort to gather up in all directions dirt to fling back upon their brethren; where is the Spirit of Christ in all this?

Where the broken heart and weeping eyes at the terrible thought of our being involved in such evil?

Alas, there is what looks much more like a malignant effort to extract heresies out of papers, which if read with an unprejudiced mind would yield profit and edification. It is all most deplorable.
He continued: As to the charge brought against Mr. Raven of heresy, blasphemy and attacking the Person of the Son of God, they are simply monstrous, there is no foundation for them.
Some seem possessed with the idea that there is behind and underneath a regular system of doctrine subversive of Christianity. I ask such, what have we got to do with what is behind and underneath.

We can judge what is before and above and they have utterly failed to produce adequate evidence to sustain their charge, but beloved Cutting I am persuaded that we need all this terrible sifting, else the Lord would not have allowed it to come upon us,

and further I believe that the Lord will bring rich blessing out of it all to individual souls, indeed I see it already in many; more knitting of hearts in true brotherly love, instead of cold, formal, nominal fellowship.

For myself I am conscious of feeling a real spring in the inner man, a more profound sense of the love of God; the preciousness of Christ and authority, majesty, fullness and loving depths of Holy Scripture, and I look for much more for myself and others through the infinite grace of Christ.

I do trust that we may be soon done with this heart sickening, soul withering discussion and strife and be allowed to go on heart to heart in communion and worship, shoulder to shoulder in service and testimony, that is what I long for, nothing else has any charm or interest for me.

This is what I have been seeking for in my poor way to realize and promote for the last fifty years, and by the grace of Christ shall never accept anything else.
---

Then on April 3, 1896, not long before the Lord took him, CHM wrote from Cheltenham:
Though hardly equal to the effort of stooping over the desk, I feel I must send you a loving line to acknowledge the receipt of your kind letter of the 21st ult.
I have been an invalid for over a year, confined to these two rooms. I am still very poorly and in the doctor's hands, suffering from bronchitis, oppression, suffocation and great debility, in every department of the constitution.

But all is divinely right. The gracious Lord has been with me and given me to realize, in a very marked way, the preciousness and power of all I have been speaking and writing about for fifty-three years. Blessed be His Name.

I know you will lovingly excuse a very meagre scrap as I am not able for much writing.
He continued: As to your question about Mr. Raven, I can only say I do not believe he holds any fundamental error.
He has repeatedly conferred with brothers who had any difficulty or question as to his doctrine and they have expressed their entire satisfaction and confidence.

His oral ministry is highly appreciated in all quarters. As to his writings, he may have been misunderstood and misrepresented, but I believe he is ready and willing to satisfy any honest enquirer.
Finally: In conclusion, I may just say that, in looking back at all our sorrowful and humiliating splits and divisions for the last fifty years, I believe them to have been, for the most part, the sad fruit of unbroken material, somewhere.
Had there been more self emptied dependence upon God, more tenderness, gentleness, confession and prayer; and round the fountain of Holy Scripture, in true teachableness of spirit, much of our sad and humbling divisions might have been avoided.

But our God is above all. His 'foundation standeth sure' with its double seal 'The Lord knoweth them that are His; and let everyone that nameth the name of the Lord depart from iniquity'.
But I must close. Love to the brethren. The Lord bless you all.
Affectionately yours in Christ, C.H.M..
HIS  FOES
"Many foes surround our footsteps;
None shall mar our joy in Thee!"
No. 335 in the 1973 Hymn Book, by E. H. Chater
Mr. Raven had "many foes" indeed, but their names, well known by many in any case, cannot all be mentioned here.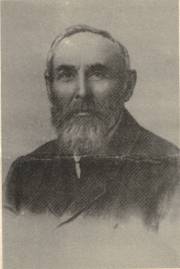 Most of them – among whom Mr. W. J. Lowe was prominent – are named in History: The Champney Letter and Events in Ealing.

Others can be noted in Letters of F. E. Raven, along with his mild and patient replies to their accusations

Those who opposed him were proponents of a purely objective line of ministry which did not reqire any substantial response in the believer. They are the same ones who had been slighting the minisry of JBS for years.
• F. W. Grant (1834-1902)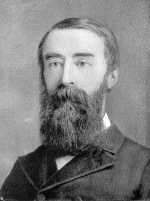 Several incidents recorded in History: FER in America, 1898 regarding the opposition of Mr. F. W. Grant – whose ministry had led to a division in 1883-84 – follow:
A. E. Booth, a 'labourer' among the supporters of F. W. Grant, was present at the meetings in Quebec City.

He took notes on the Lord's Day morning, evening and on the Monday. But he is said to have shown a spirit not likely to be profited.
Subsequently, while at Minneapolis, FER received a letter in F. W. Grant's handwriting.
It was signed by FWG, Timothy Loizeaux, Samuel Ridout and another requesting FER to meet them in Plainfield, and explain to them some of his doctrines.

After careful consideration FER wrote to say that he was unable to do so,

that neither his time nor the object of his visit to the country would admit of it,

and that irrespective of FWG's recent action towards himself, it would be impossible for him to meet him until several serious matters had been settled.

Mr. Grant's 'An Open Letter to Mr. F. E. Raven', Sept. 28, 1897, was a scathing attack on Mr. Raven and his teaching. FWG wrote a second letter, April 28, 1899.

It was the general opinion among brethren that FWG's letter entirely ignored his position as being under discipline,

and that it was an audacious assumption of the right to ask for an explanation and of his competence to judge.
Then, while in Baltimore, Samuel Ridout happened to meet FER, in the company with others, and spoke to him.
He and a Mr. Buchanan attended all the meetings at Baltimore and asked a number of questions in a good spirit.
Later, in Plainfield, FWG and quite a number of his adherents were present at several of the readings, as well as from the open meetings.
• W. Kelly (1820-1906)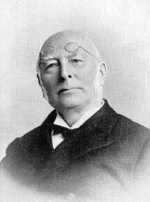 A more sustained, vigorous and bitter opposition came from Mr. William Kelly.
From January 1857 until his death on March 27, 1906, Mr. Kelly was the editor of 'The Bible Treasury', a monthly magazine in which much of the ministry of JND and other brothers first appeared.
Mr. Kelly – with others – had seceded from fellowship in 1881 over an ecclesiastical matter.
One of JND's last statements is said to have been, 'I should particularly object to any attack being made on William Kelly'.

It is sad that Mr. Kelly was not marked by the same spirit towards Mr. Raven.

Mr. Kelly used the pages of 'The Bible Treasury' for a bitter attack on Mr. Raven and his ministry.

FER's views on eternal life and the Person of Christ were condemned – not because they differed from Scripture, which they did not – because they differed from the so-called orthodox views of WK and others.

It is sad indeed to read Mr. Kelly's caustic unbrotherly remarks as to FER – it is sadder still to see the way he rejects Scriptural truth in favour of traditional theological dogmas.
• A. H. Rule (1843-1906)
Mr. Alexander H. Rule, of Des Moines, Iowa – who laboured among brethren in USA and Canada for many years – went further than any of FER's other foes. On June 10, 1902 he wrote:
"We can easily see a tremendous power of Satan leading among many lines, such as Higher Criticism, Christian Scientists, Mormonism, Adventism, etc., etc., toward the apostasy seen in the 'vine of the earth', in Rev. 14. … One of these lines is Ravenism".
This extreme position of attributing Mr. Raven's ministry to "a tremendous power of Satan" still marks some of those with whom Mr. Rule was connected.
In contrast to such a wild charge and intemperate spirit, Mr. Raven's remarks on an earlier letter of Mr. Rule are mild and measured. 'Letters of F. E. Raven' pages 23-26, September 17, 1890.
In the 'New Series' there are 20 volumes of 'Ministry by F. E. Raven' and one volume of 'Letters of F. E. Raven' and an Index covering both, published by Kingston Bible Trust.
In addition I have compiled a catalogue of his ministry and letters which
"provides a comprehensive overview of the titles of each series of meetings and every individual reading and address, with the Scriptures covered and, where available, the dates and localities where ministry was given, along with volume and page references.

"An Index – at the end of the volume – lists years and localities for those interested in tracing the history of the ministry".
The following is from a photocopy of a letter in FER's own handwriting which is not in his published letters. It expresses his responsibility as a servant for his ministry.
8th February 1896

My dear brother,


I am confident you will not deny to me a sense of duty and some exercise of conscience as a servant of the Lord (however feeble an one) as to what I have put out –

and I am persuaded that a withdrawal of part of my lecture as suggested would cause the truth to suffer, and be a real trial to many.

My conviction is, that having taken the form of a servant, becoming in the likeness of men, the Lord as the perfect servant entered into all the conditions of the path of service here for man –

and hence He met and recognized and built on the work of the Father, and it was His pleasure to do this – for He was here for the Father's will – He has thus in all things the preeminence.

I do not for a moment deny that there was much more than this with Him, and this, as far as my memory serves me is distinctly maintained in my lecture.

I cannot understand how speaking of the Lord receiving guidance from the Father's revelation to Peter should in the thoughts of the saints lower Him more than His becoming in the path of service obedient to the death of the cross.
As regards my coming to Belfast I should (though regretfully) surrender all idea of it rather then that any little service I could render should be an occasion of difficulties to the saints.

Believe me, Yours affectionately, F. E. Raven.

Among other matters, FER's valuable ministry opened up the truth as to eternal life and the Person of Christ – which made him the object of attack to this day.
---

The public clarification of our Lord's Sonship did not take place till 1929, but both Mr. C. A. Coates and Mr. James Taylor have indicated that it was before them during Mr. Raven's last years.
On July 28, 1931, CAC wrote:
"If any Scripture could be adduced which attaches the title Son to Him as in absolute Deity, and with no reference to His mediatorial glory, it would settle the matter at once.

"But I must confess that, after considering this matter carefully and prayerfully for 30 years, I have not been able to find one". Letters, page 201.
And on July 15, 1929, J.T. wrote:
"As regards the application of the term Son, or Son of God, to our Lord as 'in the form of God', I have long hesitated about it …

"as a matter of fact, it was Mr. Raven who first mentioned the questionableness of the application I have mentioned.

"This was in my hearing – when he was in America in 1902. The remarks were not published, as far as I know, but they are well known by many", Letters, 1: 260; also page 263.
---

An interesting result of Mr. Raven's ministry is mentioned in a January 14, 1935, letter of Mr. A. E. Lambert who wrote:
"This visit has shewn me that throughout Germany they break bread immediately after the first hymn.*

"They seemed astonished to hear that this is rather the exception than the rule in England.

"I was told that this was due to FER who said, 'We do not come together to pray, but to break bread'. They apply it thus literally".

[* This was the practice when I came into fellowship in 1950, and is, I believe, in accord with the Scriptures.
A review of Mr. Raven's ministry is beyond the scope of this biographical sketch – but the following will give the reader some idea of its breadth.
New Series 1
- The Spirit's Day, 5 addresses, 1895
- Christianity in its Moral Characteristics, 4 addresses, 1895
- The Wilderness and its Lessons, 8 addresses, 1898
- The Man of Faith in the History of His Soul


Illustrated in Abraham, 5 addresses
- The Servant of the Lord ­His Enlightenment and Resources,

3 addresses, 1895-?
- God is Light, a reading

New Series 2
- The Testimony of The Christ - No. 1, 4 addresses,


Greenwich, December 1902 — See the first address:

The Testimony as Determining our Position here
- The Testimony of The Christ - No. 2, 5 addresses,

London, January 1903
- Grace, 4 addresses, 1896
-The Moral Features of Christianity, 4 addresses
- The Heading up of all Things in Christ, 5 addresses
- Deliverance and Its End, 4 addresses, 1895
+ 4 Addresses, including:

Responsibility as to the Maintenance of the Truth,

Quemerford, 1896

New Series 3
- The Head of all Principality and Power, 4 readings
- The Ark of the Covenant, 4 addresses
- The Divine Structure of Truth which God has Reared,


4 addresses, Manchester
- 3 Readings at Peckham, London, 1902

See N.S. 16 for balance of 2 readings
+ 4 Addresses
- The Person of Christ, a paper, Greenwich, 1895
- Extracts of Letters from F. E. Raven,

July 22, 1891 - June 15, 1903

New Series 4
- The Kingdom in Patience and Glory, 8 readings
- One Body, 4 addresses
- The Headship and Lordship of Christ, 2 addresses
- Grace Reigning through Righteousness to Eternal Life,


4 addresses
- The Inheritance, an address
- Wisdom's Way, 6 addresses
- The World to Come as Presented in James, 3 addresses

New Series 5
- Gospel of John, 30 readings, Greenwich, 1897

New Series 6
- From Grace to Glory, 7 addresses
- Psalms, 4 addresses
- The Elect of God, 4 addresses
+ 7 Readings and 10 Addresses


New Series 7
- Colossians, 3 addresses, Park Street, London, 1891
- The Greatness of Christ, 3 addresses
- The Counsel of God, 3 addresses, 1892
- Philippians, 3 addresses
- Philippians, 4 addresses
+ 5 Readings and 31 Addresses

New Series 8
- The Service of Grace and its Results in the Saints,


5 addresses, 1894
- The Assembly in Four Aspects, 4 addresses, 1894
- First John, 5 addresses, 1894
- Christ's Voice – a Twofold Application, 2 addresses
+ 5 Readings and 17 Addresses

Including: The Man of God

New Series 9
- Matthew, 15 readings, 1895-96
- The Purpose and Power of God, 17 readings on Ephesians,


Greenwich, 1896-97
- Philippians, 3 readings
- Hebrews, 11 readings, Greenwich
+ 1 Reading and 16 Addresses

New Series 10
- Galatians, 2 readings, Weston-Super-Mare, 1897
- First Corinthians, 4 readings, Weston-Super-Mare, 1897
- Hebrews, 2 readings, Weston-Super-Mare, 1897
- 3 Addresses at Weston-Super-Mare, 1897
- Psalms, 4 addresses
- First and Second Corinthians, 12 readings - London, 1897-98


See N.S. for No.'s 7, 8, 11 of this series
- Luke, 3 addresses
- The First Elements in Christianity,

2 addresses on 1 Thessalonians
+ 1 Reading and 11 Addresses including

- Here for God's Will, Marriage Meeting,

Hazelville, London, December 8, 1897


New Series 11
- Colossians, 3 readings, London, 1898
- Mark, 4 readings, Brixton, London, 1898
- The Kingdom and the House etc.,


4 readings, Brixton, London, 1898
- Luke, 8 readings, London, 1898-99
- Resurrection, 3 addresses, 1898
- Various Names of Christ and their Import

6 addresses, 1898
- First and Second Timothy, 5 readings, Greenwich
+ ® The Coming Together of the Assembly
+ 1 Readings and 17 Addresses


New Series 12
- Readings and Addresses in U.S.A. and Canada, 1898
Quebec City, Toronto, Rochester, Chicago, Minneapolis, Indianapolis,
Baltimore, Plainfield, 17 readings and 15 addresses, including


The Kingdom, The New Covenant, Reconciliation and

Eternal Life, The Principles of The World to Come

New Series 13
- Joseph, 4 addresses, 1899
- First Peter, brief notes of 4 readings, 1899
- 4 Readings at Peckham, London, 1899-1900
- John, 5 readings
+ 9 Readings and 25 Addresses


New Series 14
- The Sanctuary, etc., 9 Readings in London, 1900
- 2 Readings at Quemerford, 1900
- 3 Readings at Peckham, 1900
- 4 Addresses on Landmarks of Grace in Luke's Gospel,


Battersea 1900
- 2 Readings on James
- 3 Addresses on The Feasts, Manchester, 1900
- 2 Meetings at Stourbridge, 1900
- 3 Addresses at Nutford Hall, 1800
- 2 Addresses at Chalk Farm, 1900
- Address on Marriage
+ 12 Readings and 13 Addresses


New Series 15
- 7 Brief Notes of Readings at Manchester, 1900
- 3 Meetings at Peterborough, 1900
- 4 Readings at Peckham, London, 1900
- 4 Addresses, The Renown of Christ, 1901
- 6 Addresses at Glasgow, 1901
- 7 Readimgs at Edinburgh, 1901
- 10 Addresses in Germany, 1901
+ 5 Readings and 28 Addresses


New Series 16
- 7 Readings on Christianity in its True Character, Belfast, 1902
- 6 Addresses on Old Things and New, 1902
- 4 Addresses on Grace Abounding, Manchester 1902
- 5 Readings at Peckham, London, 1902
+ 14 Readings and 17 Addresses


New Series 17
- Readings and Addresses in U.S.A. and Canada, 1902 Rochester, Chicago, Indianapolis


14 readings and 10 Addresses including,

John, 1 and 2 Corinthians and 1 John
See Extracts from above.


New Series 18
- Readings and Addresses in U.S.A. and Canada, 1902 New York, Knoxville, Baltimore, Plainfield


15 Readings and 4 Addresses including

Ephesians, Romans, Colossians
See Extracts from above.


New Series 19
- 2 Readings at Peterborough
- 4 Addresses on The Anointed Preacher and the Sure Covenant,


Manchester, 1903
- 5 Readings on Hebrews, London
- 7 Readings and Addresses on Some of the Teachings

of the Gospel of John
- 3 Readings on The Testimony of Christ

at Peckham, London, 1903
- 4 Readings on Hebrews
+ 10 Readings and 55 Addresses and Notes


New Series 20
- 14 Summaries of Readings on Romans. London, 1896-97
- 3 Readings on 2 Corinthians, London, 1897-98
- 2 Addresses and 6 Summaries of Readings on


The First and the Last, Bristol, 1901
+ 4 Readings and 10 Addresses


New Series - Letters of F E Raven
- Letters, 1888-1903 and fragments from his ministry
He returned in November 1902 from his second visit to America looking ill. The malady which caused his death had evidently started but it was some time before it was diagnosed.
In spite of much bodily weakness he continued to minister, and he often did revising in bed.
In January 1903 he gave four lectures at Kensal Road, London,*

[* These lectures cannot be found in his published ninistry.]

and he was able to serve up to a few months before his death on August 16, 1903.
By April 1903, his personal doctor and a London physician had diagnosed his problem as a thickening at the top of the right lung, with some corresponding thickening of some of the chest glands.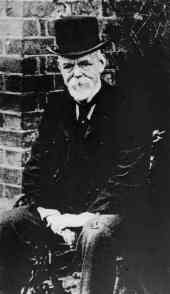 He was very weak and the least exertion caused shortness of breath. At night he had a trying cough.

When he became weaker he used to be wheeled by brothers in turn in a chair in Greenwich Park but he did not attend any meetings.

His youngest daughter, Jessie, who was by then engaged with his hearty approval to Mr. Crosland, was a great help and comfort to him and was kind in arranging for brothers to visit him at suitable times.
On one occasion when he was feeling very weak he showed Mr. Chesterfield something sent to him anonymously that morning implying that he was like Uzza in 2 Samuel 6: 6-7, and that was the cause of his illness.
Mr. Raven said that he had no idea who had sent it.

Mr. Chesterfield said that he knew who had sent it; it was Satan and he took it and burnt it.
Beloved FER had made no provision for his family and the two younger daughters were still attending the Blackheath High School; he had faith as to this.
His widow and the children did not want for anything.

Well off brothers came forward at once and things went on as usual in the home, including the completion of the two younger children's education.
---

Mr. Raven departed to be with Christ on Lord's Day, August 16, 1903, in his sixty-sixth year.
His burial took place on the 21st August, 1903, at Nunhead Cemetery, London, S.E. 14., at 3:30. It was a fine afternoon, and nearly 1,800 were present.
The first word at his burial was given by Mr. Thomas H. Reynolds (1830-1930), of Burford, Oxfordshire, a close associate and valued friend of Mr. Raven for many years.
The second word was given by Dr. Walter T. P. Wolston of Edinburgh.
WTPW later wrote 'Hear the Right – Plain Facts regarding Alnwick and Glanton' in support of the Glanton position.

Curiously, despite his high regard for Mr. Raven as "a 'chosen vessel' " – see below – Dr. Wolston's books are published by the USA depot associated with FER's opposers.
---
Mr. Reynolds prayed from the steps of the cemetery chapel, and then read Acts 13: 36-37:
"David, after he had served his own generation by the will of God, fell on sleep, and was laid unto his fathers, and saw corruption: But he, whom God raised again, saw no corruption".
He said that in the cases of Moses, of Aaron, and of David, they all passed away, but there was in the case of Moses tenderness which was very touching in the words: "The Lord buried him".
God's interest in His servants is the same today, only He carries it out through His people. He has given us the privilege of burying His servant in His Name.
"David had to die, but up to the last he was occupied with God's interests on the earth. We can say that this was the case with our beloved brother".
He referred to the last letter he had received from Mr. Raven, in which he spoke of the love of the saints shown to him, and of the "living system of divine affections" with which we are connected here.

Passing on to Aaron, he said: "The day of his service as Priest in God's House came to a close, and he too was buried.

"David was occupied in preparing for God's House even in the extremity of weakness. So with our departed brother, what he ever sought to do was to present Christ to the saints".
"In view of His sufferings and death, the Lord Jesus went to stay at Bethany during the last week, and spent His days at the Temple, knowing what was before Him. Yet day by day He went on in patient testimony to God's people to the last day".
Pointing to the hearse he said: "The body that lies there is precious to us, but how much more precious to Him whose servant he was.
"The Lord had given the gift of our brother to the Church, and He had the right to call him to Himself.

"But the Lord remains, and His love to the Church remains the same, and He will supply the needs of the Church".
---

Hymn 208 – "In hope we lift our wishful, longing eyes" was sung and Mr. Dennis L. Higgins (1847-1943), of Highgate, prayed. The coffin was carried on the shoulders of six brothers and lowered into the grave.
---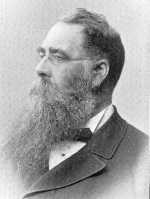 At the grave Dr. W. T. P. Wolston read the following Scriptures:
"And Israel said unto Joseph, Behold, I die; but God shall be with you, and bring you again unto the land of your fathers", Genesis 48: 21.*
[* WTPW used this same Scripture at the burial of JND, 21 years earlier in 1882.]
"By faith Jacob, when he was a dying, blessed both the sons of Joseph; and worshipped, leaning upon the top of his staff", Hebrews 11: 21.
"He hath said, I will never leave thee, nor forsake thee. So that we may boldly say, The Lord is my helper, and I will not fear what man shall do unto me", Hebrews 13: 5-6.
He then said: "Our gathering today tells a simple tale. A dear servant of the Lord has been taken away; all his earthly ministry is over; and affection for this servant of Christ has gathered so many to lay his remains in the tomb.
"He was undoubtedly a 'chosen vessel', a remarkable vessel, whose ministry we enjoyed and profited by, and whose departure many will deeply mourn beside ourselves.
"That vessel the Potter formed, filled, sustained, and greatly used. Now the vessel is gone; the Potter is not.

"Time was when the vessel was in the mind of the Potter, then He formed the vessel, and filled it for His service, so that instead of the vessel being in the mind of the Potter, the mind of the Potter was in the vessel. (See Jeremiah 18: 1-6.)

"We have all benefited by his singular service now ended".

"How blessed for us, however, is it to remember that, though the vessel is broken, his service concluded, the Potter remains. Truly says the Scripture: 'Thou remainest' ".
"The Scriptures which I have read illustrate very sweetly this thought, and they came to my mind today in connection with the burial of this, our beloved brother.
"How lovely it is to hear the patriarch Jacob say to his son Joseph: 'Behold, I die; but God shall be with you'.

"God does not die, though Jacob passes away. Can we not today take the deepest comfort from this thought?

"And whether it be the widow, the orphans, or the Church at large, how full of deep meaning are these words: 'God shall be with you' ".
"But not only to Jacob were these words uttered (Genesis 28: 15).
"When Moses is closing his service, what does he say to Joshua, who had to take up the work which Moses was laying down? 'Be strong and of a good courage; fear not, nor be afraid of them: for the Lord, thy God, He it is that doth go with thee; He will not fail thee, nor forsake thee', Deuteronomy 31: 6".
"But a third time we get these cheering words in Old Testament Scripture.
"The history of David is closing, and to Solomon how striking is it to hear him say: 'Be strong and of good courage, and do it; fear not, nor be dismayed, for the Lord God, even my God, will be with thee; He will not fail thee, nor forsake thee, until thou hast finished all the work for the service of the house of the Lord' ", 1 Chronicles 28: 20.
"Now we are neither patriarchs, leaders, nor kings; but that which was their solace, support and strength we have.
"We are only simple pilgrims on our road to glory, and as we mourn the loss of this one and that one, specially today the loss of him whose coffin we have just lowered, how blessed is it for us to hear these same words: 'He hath said, I will never leave thee, nor forsake thee' ", Hebrews 13: 5.

"Vessels may break, servants go, husbands be removed, and fathers be taken away from those that love them, but God remains".
" 'God shall be with you' are indeed wonderful words to dwell in our hearts, and the Spirit's beauteous quotation, 'I will never leave thee, nor forsake thee', may well be a solace to every heart here today.
"This being so, what should be the spirit and attitude of our souls? The Apostle furnishes the answer.
"If God says, 'I will never leave thee, nor forsake thee', he immediately adds, 'We may boldly say, the Lord is my helper, and I will not fear what man shall do unto me' ".
"Brethren, we may have the fullest confidence in God. Let who will die, if God be with us, we are well off. Our path is a very blessed one – if, remaining here, God will be with us; and if we pass away that is 'far better' ".
---

Dr. Wolston prayed, and the first and last verses of hymn No. 30 "Rest of the saints in glory, The labourer's bright reward" in the Appendix were sung.*
[* The hymns are from the 1881 book. Apparently THR's 1903 revision had not yet been published.]
---

Mrs. Raven was not present. Generally it was brothers who went to burials at that time.
THE  BATTLE  FOUGHT
Lines suggested by the home going of the late F. E. Raven
How sweet to think of him as with Thee, Lord,
Who here so faithfully did preach Thy word,
Contending bravely for eternal life,
Maintained by Thee throughout the deadly strife.

But now he rests! The conflict all is o'er!
Safe home with Thee, he'll meet with foes no more!
His sufferings over, for there all is joy
In that bright Home where love's without alloy.

If in the battle failed some trusted friend,*
Thou, Lord, didst with him stand until the end;
On Thee he counted, nor did count in vain,
For all the way Thou didst his faith sustain.

How strange his foes, for they professed Thy Name,
Yet fought against Thy truth, to their own shame!
So gentle he, yet fearless stood his ground,
Nor cared if all the world upon him frowned.

The smile of Thine approval led him on
In his bless'd service till his work was done;
How sweet the word Thou gav'st him at the close
To cheer Thy people and to silence foes.

O Lord, a thousand times Thy Name we praise
For such a gift in dark and evil days;
Raised up to help Thine own in time of need,
And far and wide the flock of God to feed.

Thou gavest him before our minds to spread
That living system of which Thou art Head,
That universe of bliss, which Thou wilt fill
With that sweet love of Thine we know so well.

Profound our grief as we stood round that grave
And his remains to Thy safe keeping gave!
Such tears had seldom there been seen before,
For 'tis the Church's loss that we deplore.

To us bereaved Thou dost in love draw near,
To reassure us of Thy tender care.
For Thou remainest, and art still the Same,
Nor ever wilt, nor canst deny Thy Name.

And though Thy servant is no longer here,
His ministry remains Thy saints to cheer;
And in Thyself is all resource, O Lord,
Who grace on grace will still to us afford.

'The system of eternal things is near,
And if I pass through death, the Lord is there,
As Stephen found it, He's the other side',#
– Supported thus by Thee, Thy servant died.

Now, Lord, we pray that all Thy saints may stand
In love together, as one holy band;
And though our strength be little, keep Thy word,
True to Thy Name till we are with Thee, Lord!
1903 – H. D'Arcy Champney (1854-1942)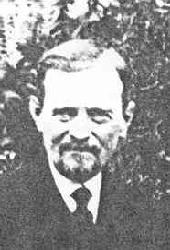 The above poem is from Poetry: The Alpha and the Omega. There are also 10 hymns by HD'AC in the 1973 Hymn Book.
* Verse 3, line 1, "some trusted friend" is a reference to Mr. Champney himself. He said "for nearly two years I spoke against his teaching, and believed him to be a very unsafe guide", History: The Champney Letter.

# Verse 11, lines 1-3 is a paraphrase of his words to Dr. Morrish: "The whole system of eternal things is not far off and if one has to make the passage of death the Lord is on the other side; so Stephen found it". June 22, 1903, 'Letters of FER', page 208.